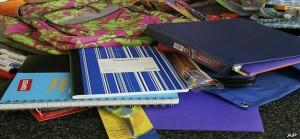 Backpack distribution is scheduled for August 22-24.
Our backpack program alleviates a financial burden for many families. Last year, your bountiful donations, along with the generous support from the UMW blessed over 80 middle and high school students in Midland County with new backpacks filled with necessary school supplies. This year we hope to reach 100 students, but again, it is your generous giving that allows this to be a success.
Donations are being collected through August 14.  Collection bins are located in the church office area.  The following is a list of donated items still needed:
SUPPLIES
2 pocket folders (258 needed)
tab dividers (176 packs needed)
blue or black pens (80 packs needed)
highlighters (33 packs needed)
erasers (60 needed)
protractors (60 needed)
pencil sharpeners (60 needed)
1.5 inch binders
VOLUNTEERS NEEDED!
Backpack Assemblers – Aug. 15, 9:30 am
We need 3 – 4 helpers to fill each backpack with a binder, filler paper, tab dividers, pens, pencils, and highlighters.  We have 100 backpacks to fill!
Family Escort – Aug., 22-24 – 1 to 2 shifts/day; 10:00 am – noon or 1:00 – 3:00 pm
This individual will walk a family through the room, making sure they get all the supplies they need.  You can work as many shifts as you like.
No time to shop or volunteer?  You can make a cash donation to help fill the gaps—that is helpful too! Just drop them off in the office.
Remember…You are planting seeds of hope in these students.  The more seeds we plant, the greater the chance of some taking root and flourishing.  Let's keep planting!
Questions? Call Maureen, 835-6797 ext. 119.