Weddings

Since it is a most sacred occasion, we commend anyone's decision to hold a wedding in a church.  At Midland First UMC, every wedding is conducted reverently as a service of worship.  Our wedding policies insure that all arrangements shall be in accordance with the best Christian traditions and concepts and in good taste to make your wedding as beautiful, reverent, and memorable as possible.
The Midland First UMC pastoral staff officiates at many member and non-member weddings each year.  Our church includes a beautiful Chapel for small weddings (up to 90 guests) and a Sanctuary for larger weddings.  Arrangements for your wedding to be held at another location can also be accommodated by our pastoral staff.
A wedding may be scheduled on any day except Sunday and holiday weekends (including prior to and following holiday weekends).  The date and hour must be arranged through the church office at least six months in advance of the wedding date.
For more information or to schedule a wedding, contact Tonya Simons by phone at 989-835-6797 ext 110, or by email via
 Baptisms
As United Methodists we believe that baptism is a covenant of God's Word to us, proclaiming our adoption by grace, and our word to God promising our response of faith and love.  Those within the covenant constitute the community we call the church; therefore, baptisms are conducted during the public worship of the congregation.
Persons of any age can be baptized.  Infants and others unable to take the vows for themselves are presented by parents and/or sponsors who should be members of Christ's holy church.
2018 baptism dates
For more information or to arrange a baptism, please contact Tonya Simons by phone at 989-835-6797 ext 110, or by email via
Memorials and Funerals
The death of a loved one and the grieving process is always very difficult.  In conjunction with local funeral homes, our pastoral staff can help support and guide you as you make arrangements for a funeral or memorial service at the church or funeral home.
If you would like to speak with a pastor or need help with arrangements, please contact Tonya Simons,  or 835.6797 ext. 110.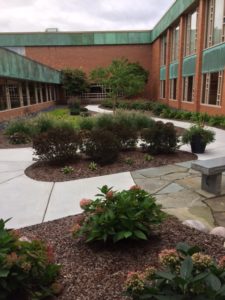 Shrader Memorial Garden
A Memorial Garden is a place of loveliness and remembrance used for the inhuming of ashes from cremations.  At Midland First United Methodist Church, The Shrader Memorial Garden is under the supervision of the trustees of the church.  The ashes are placed directly into the soil and become a part of the garden.  No containers are interred.  A record of all the persons whose remains are inhumed are kept and can be viewed using the Kiosk located at the entrance of the garden.  Arrangements will be made through one of our pastors, who will inter the ashes.  Click here for a downloadable pamphlet about the garden.
If you would like more information, please contact  Tonya Simons, or 835.6797 ext. 110.