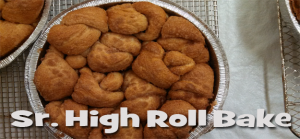 Last Roll Bake of the School Year!
Saturday, March 4  
Rolls will be ready for pick-up in Fellowship Hall between 4:00 & 8:00 pm on Saturday, March 4, or you can pick them up after morning services on March 5.  If you didn't get an order placed, there will be extra rolls available for purchase; $3.50 for plain, & $4.00 for cinnamon.
As always, we appreciate your support of our youth and our Sr. High UMYF.